The Hybrid 30 Day Reset gives you knowledge,accountability, community and professional coaching to help you establish personalized health and growth habits that will help you become your best self, and provide you with the proper tools to achieve your goals. You will receive the personalized roadmap, the guide and the support system along the way to achieving your dream life.. 1 intentional day at a time.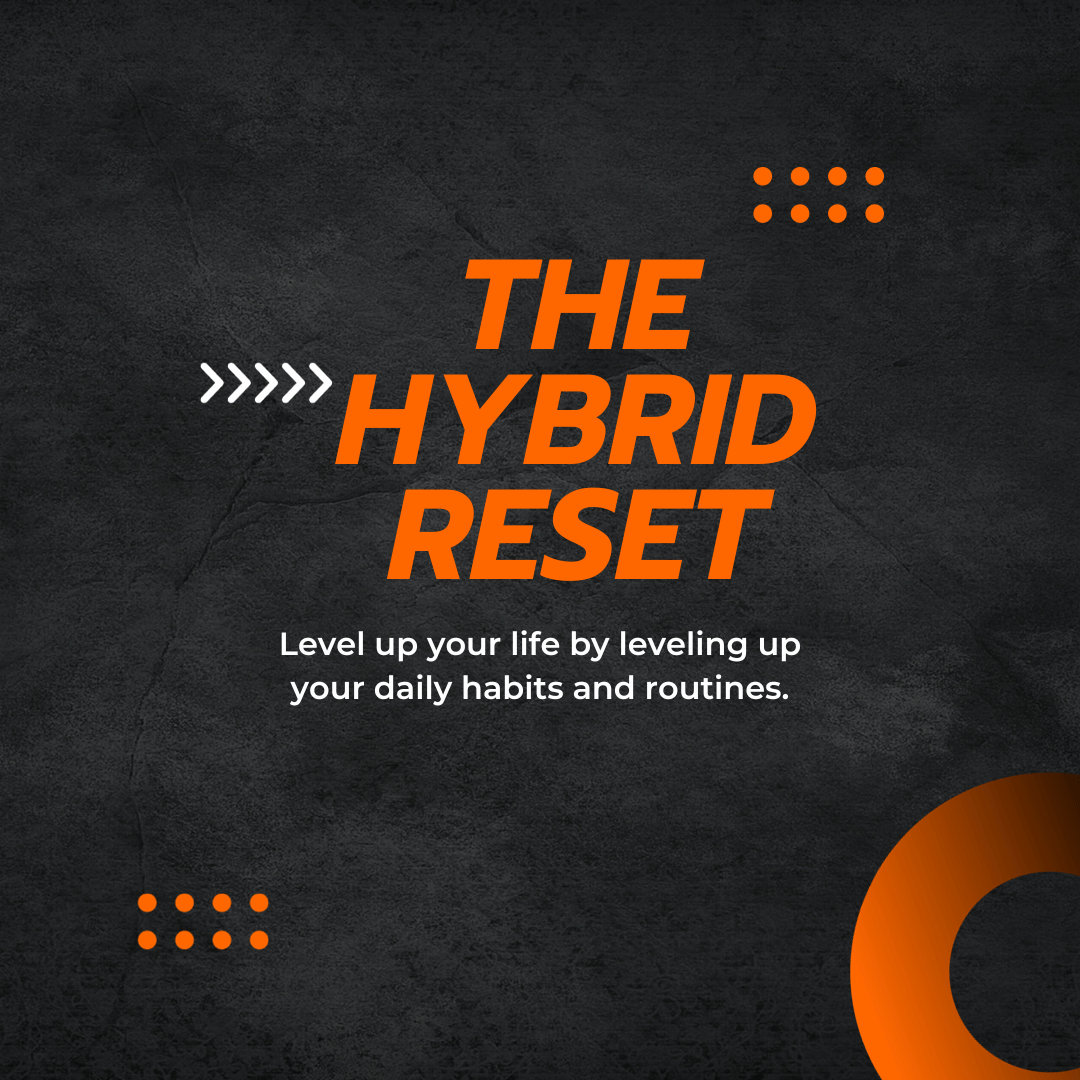 You Will Recieve Access To...

...
Custom, macro based meal plan with recipes and ingredient lists as well as personalized hybrid functional training programs and follow along videos

Connect with others in the Hybrid community for encouragement, support and questions.
Earn badges for your personal achievements and win prizes when hitting milestones

Learn more about the Hybrid Fitness App and how it can be used for your exercise and nutrition programs.
Easy to Follow Workout Videos

Track All Workouts, Nutrition Targets, measurements, sync your fitness watch, follow your progress.
Each week, tune in for LIVE video coaching access and homework that will transform your daily life.
Busy executive wanting to increase her overall energy, focus, understand more about nutrition, become stronger and increase confidence.
STEP #1
Register for the Hybrid Health Starter Pack below
STEP #2
Follow the steps in the set up email and download the HAT app
STEP #3
Fill out the RESET checklist and submit to get your meal plan and program set up (72 hours max)
STEP #4
Add the Hybrid RESET kickoff coaching Premier to your calendar
(10/1/23 @ 6pm MST)
STEP #5
Add any extras to enhance your experience
October RESET Theme: Authentic Happiness
What is authentic happiness, how do we achieve it, and what it means to thrive rather than survive
Your unique character strengths, and what thriving looks like for you, personally
Implementing THRIVING behaviors and environments on a daily basis
Blazing a new trail and mission plan forward.
Your Coach
Lacey M. Byrd
CPT, CNS, CES , SFS, PES, CNC, FMS
Having coached Top Executives, Actors, Olympic Athletes, and elite Entrepreneurs Lacey Byrd is no stranger to implementing programs that help create sustainable change both in the mind and body.
With her extensive knowledge of over 10 years in biomechanics, physiology, exercise science, and nutrition she has successfully launched challenges, and implemented life changing programs for 1000's of people.
Now, working towards her PhD in psychology at the University of Alaska, Lacey's methods include stress management techniques and lifestyle habits to promote and optimize mental and physical health.